November 1967
Volume 1-1
20 Pages
TITO RODRIGUEZ:
An Introduction by Tito Rodriguez.
When my dear friend, Peter Rios invited me to contribute a few words to the Inaugural Edition of LATIN N.Y.,
my acceptance was enthusiastic and immediate.....
____________________________
Contents:
An introduction by Tito
editorial
Composer of the Year Award
Formal Gala Ball./..was a Ball
Tribute to El Gran Combo
Machito is Honored
Symphony Sid Says.....
Latin New York Swingers.....
From Tito Rodriguez With Love
Latin Grooves
Reach Out
Our 1st Miss Latin N.Y.,
Nydia Caro
Al Santiago Heads Musicor Latin Division
and more.....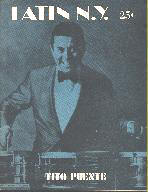 January 1968
Volume 1-2
32 pages
TITO PUENTE:
by Pedro Galiana
He is the tops! The best of 'emall! There is nobody like him, and when I say that I know I'm covering lot of ground in the world of music........
____________________________
Contents:
editorial
Inside The Puerto Rican Expo
An evening with Tito Rodriguez
Dick "Ricardo" Sugar writes.....
Band Of The Year Award
Cotique Artist Join Hands
Iris Bracero
Japan Supports LATIN N.Y.
Tito Puente, is a real Latin from Manhattan
Latin Grooves
Reach Out
Polito Vega, Club DeLa Juventud
Miss Latin N.Y., Olga Veto
A Solid New Group- The Latin Souls
and more.....


February 1968
Volume 1-3
32 Pages
PETE RODRIGUEZ:
by Miguel Gavilan
As pen is put to paper, we hesitate for a moment, with the thought that we are trying to capture the aura of contemporary phenomena in Latin music.....
____________________________
Contents:
editorial
A tribute to La Lupe
Dias De Los Reyes
The Psycho Room
The End Of Pure Latin Music?
THE Puerto Rican Expo
Jose Curbelo and His Music
Mr Pete Rodriguez
Latin Groves
Reach Out
Youth In Perspective
Narcotics
Miss Latin N.Y., Myrna Febus
minnie, middle, micro-minnie
and more.....


May 1968
Volume 1-4
32 Pages
RAY BARRETTO:
By Bobby Rodriguez
This past Sunday evening, on an assignment for LNY, I had one of the interesting and gratifying informal type interview with an old friend,
Ray Barretto.....

____________________________
Contents:
editorial
Jala-Jala Y Boogalo
Vicentico Valdes
The Fabulous Federico
The Night Of The All Stars
Mr. Wtusi with Acid
Latin Grooves
Honorable Herman Badillo
ASPIRIA, the vital turning point
Lets talk about junk
and more.....